Water Damage Restoration in Santa Barbara County
45Mild temperatures year-round make Santa Barbara County an exceptional place to live. Some rainfall in the winter has the potential to cause property damage, but internal property issues cause most water damage. Pipe bursts, leaky AC units, old plumbing, and faulty water heaters can all cause extensive water damage. 911 Restoration Santa Barbara will respond to any one of these problems with immediate water damage restoration services. It doesn't matter what time your disaster occurs. The office is open around the clock so technicians are available 24/7/365. Repair techs are guaranteed to arrive within 45 minutes of receiving your call, day or night. Call us at 805-254-8356 and allow us to offer you a free visual inspection.
Customers will receive emergency leak repair and flood cleanup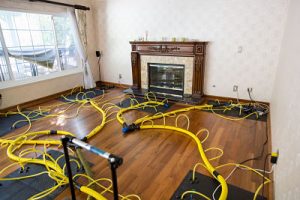 services in Santa Barbara County as soon as they need assistance. Technicians will arrive fully prepared to begin same-day water damage restoration.
The entire organization is licensed, bonded, and insured for the protection of all its customers. We want to make sure you feel safe and secure when you hire our repair techs.
As soon as technicians arrive, they will provide the property owner with a free visual inspection. This allows us to assess the extent of the water damage restoration needed to recover your home or business.
Call 911 Restoration of Santa Barbara to receive 24-hour flood cleanup service. Their highly trained technicians will provide you with the peace of mind you need to recover from any water disaster. Call us at 805-254-8356 and see how we can help.
Emergency Water Damage and Roof Repairs
Winter in Santa Barbara is the wettest time of year. If your property is not secure, the heavy rainfall can cause ceiling leaks and roof damage.
If a storm passes through and causes water damage in your home or business, you can be sure that our technicians will administer water extraction, drying, and dehumidifying services.
They will test and evaluate your property to determine exactly how the water is invading your home or business. They'll also conduct leak detection and repair services to prevent future water damage incidents.
Our fast water cleanup services will minimize structural issues and the possibility of mold growth. However, if 911 mold restoration techs find a current mold infestation while they are conducting water damage restoration, they will promptly initiate mold decontamination.
So, call 911 Restoration of Santa Barbara when you notice a ceiling leak or any other signs of water damage. You will get help from a team that cares about and understands your needs today! Call us at 805-254-8356.
Complete Home Restoration Services
Whether you need immediate flood cleanup or emergency roof repairs, 911 Restoration of Santa Barbara will assist you with every aspect of water damage restoration.
Our technicians want to make you feel completely at ease when they arrive. As soon as they get on the scene, they will take care of everything needed to get you on the road to recovery.
If the belongings in your home need to be removed from the premises to prevent further damage, we will facilitate the pack-out and storage services for you.
While the technicians are on-site, they will help you itemize your losses for your insurance company. By documenting your damage, you will receive the most coverage out of your insurance policy.
If you need help with the insurance logistics, 911 Restoration of Santa Barbara will provide you with a free insurance consultation. By having a professional go through your plan with you, you will know exactly what you are entitled to receive from your provider.
911 Restoration of Santa Barbara is confident in its ability to provide the community with complete home restoration services. We employ IICRC-certified technicians who are qualified to conduct water cleanup in residential and commercial properties.
At 911 Restoration of Santa Barbara, we want to make your life easier. Call the water mitigation company you can trust when you need expert flood cleanup or leak repair services today! Call 911 Restoration at 805-254-8356
Serving the communities of Buellton, Carpinteria, Goleta, Lompoc, Los Olivos, Santa Barbara, Santa Maria, Santa Ynez, Solvang and surrounding area.