Water Damage in Santa Barbara
911 Restoration of Santa Barbara
Santa Barbara County experiences mild, pleasant weather for most of the year. However, there can be storms during the winter months. If your property isn't adequately prepared, the heavy rainfall can cause ceiling leaks and indoor flooding leading to possible water damage. 911 Restoration of Santa Barbara knows how important it is to respond quickly to incidents involving water damage emergencies. To assist you the moment you need water cleanup services, technicians stay available 24/7/365. When you call in need of water damage restoration, they guarantee to arrive within 45 minutes.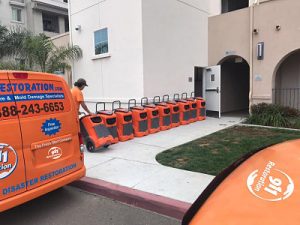 911 Restoration of Santa Barbara is known as a water mitigation company, but they specialize in all aspects of property restoration.
We are a full-service restoration company. Property owners can depend on technicians to conduct mold removal, sewage backup cleanup, fire damage restoration, and disaster restoration.
The technicians we employ are IICRC certified and have reached the highest standards in the industry set by the Institute of Inspection, Cleaning, and Restoration.
911 Restoration is a licensed, bonded, and insured organization. This status should help customers feel wholly protected when they choose to hire our team.
Customer service is an integral part of property restoration, and 911 Restoration of Santa Barbara is committed to making you feel taken care of throughout the entire process.
We want to give you all the information you need to feel at ease with the work being conducted on your home or business. Technicians will provide property owners with a free visual inspection and estimate to limit as many surprises as possible during the restoration procedures.
Call 911 Restoration of Santa Barbara when you experience any property damage in your home or business. Once technicians arrive, they will give you the peace of mind you need to get through any disaster!
Water Damage Restoration
Whenever water invades your property, it is crucial to get the moisture out as soon as possible to prevent water damage and mold.
Not only can water damage occur from winter storms, but plumbing leaks, pipe bursts, and faulty appliances can all cause leaks and floods inside your home or business.
As soon as these issues appear, you can reach out to our technicians who will respond within 45 minutes to administer water damage restoration services.
At 911 Restoration of Santa Barbara, we understand that these problems can happen literally any time, which is why repair techs are available around the clock to assist you.
Call the flood cleanup company you can trust to provide you with the water damage restoration you need to make a full recovery today!
Mold Removal
Mold is a common problem in Santa Barbara. It tends to infest areas of the property that are typically unseen, which makes it possible to grow for an extended period without going noticed.
Our technicians are experts at administering mold remediation. They will check all the dark corners of your property to ensure every spore is promptly removed.
When repair techs approach mold infestations, they make sure to determine the source of the problem. Most of the time, unmitigated water damage is causing the growth.
Customers can trust that our technicians will repair any water damage found on the premises and eradicate all signs of a current infestation. Call 911 Restoration of Santa Barbara when you need expert mold restoration, and we will make sure your property passes our mold clearance test today!
Sewage Backup and Cleanup
Property owners need to be extremely careful when they experience a sewage backup on their property. Sewage is filled with toxins and bacteria that can make people and pets upon contact.
The safest thing to do is call 911 Restoration of Santa Barbara as soon as a sewage backup occurs. Technicians will arrive within 45 minutes to begin sewage clean up procedures.
Repair techs will set up containment barriers and use specialized equipment to remove and dispose of the raw sewage safely. They will sanitize the area and administer deodorization techniques.
When you need sewage-related cleanup, call 911 Restoration of Santa Barbara. Their highly trained technicians will return your property back into a safe, clean environment for you and your family.
Fire and Smoke Damage Restoration
When dealing with the aftermath of a fire, it is crucial to receive fire and smoke damage restoration as soon as you can after the flames have been extinguished.
Property owners will receive a free fire damage assessment so they can give you an estimate of the fire and smoke damage to come up with an appraisal.
The fire department has to use hundreds of gallons of water to put out the flames, which ends up causing significant flood damage throughout the home or business.
If moisture, ash, soot, and smoke are left to sit in your property, it can create permanent damage to both your home and your personal belongings. Our technicians will react quickly so they can salvage as much as possible.
Call 911 Restoration of Santa Barbara as soon as the fire department leaves your property, and we will get started putting the pieces back together today!
Disaster Restoration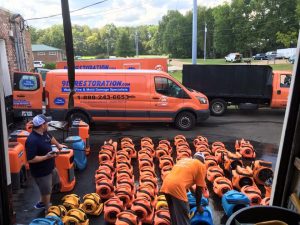 Although disaster scenarios may feel like they are far and few between, they do happen. In Santa Barbara, the region can be affected by earthquakes and wildfires.
If your property becomes affected by a natural disaster of any kind, 911 Restoration of Santa Barbara will respond as soon as possible to inspect the damage and strategize a plan of action.
Technicians will administer complete property restoration. They will take care of everything, from water damage repairs to fire cleanup services.
If it is necessary to remove your belongings from the premises during the disaster restoration, repair techs will conduct the pack-out and storage procedures.
911 Restoration of Santa Barbara wants to make your life easier when you find yourself amid a disaster. So, call our repair workers today!
Commercial Restoration
Water damage can affect commercial real estate differently than residential property. It takes skilled professionals to recognize what restoration services are needed to ensure that all the destruction is repaired.
If your commercial property incurs water damaged, either by a sewage overflow, pipe burst, or ceiling leak, it may be necessary to shut it down until the commercial restoration is complete.
911 Restoration of Santa Barbara understands the urgency of these situations, and they will respond with speedy water damage repairs. Technicians will never make customers wait long for restoration assistance.
Repair techs will promptly complete the reconstruction and renovation work so you can resume business as usual. So, call our professionals today, and they will turn your commercial property damage into a Fresh Start!