Water Damage in Santa Barbara County
911 Restoration of Santa Barbara County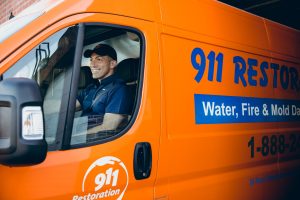 Santa Barbara County experiences mild, pleasant weather for most of the year. However, storms are common during the winter months. If your property isn't adequately prepared, the heavy rainfall can cause ceiling leaks and indoor flooding, leading to possible water damage. 911 Restoration of Santa Barbara knows how important it is to respond quickly to incidents like water damage emergencies. In order to assist you the moment you need water cleanup services, our technicians are available 24/7/365. When you call in need of water damage restoration, they are guaranteed to arrive within 45 minutes. Call us at (805) 254-8356 and allow us to offer you a free visual inspection.
911 Restoration of Santa Barbara is known as a water mitigation company, but we specialize in all aspects of property restoration.
Property owners can depend on our technicians to conduct mold removal, sewage backup cleanup, fire damage restoration, and disaster restoration.
At 911 Restoration of Santa Barbara County, we offer a Fresh Start with our comprehensive selection of property damage restoration services, including but not limited to:
Whether you're a Santa Barbara County homeowner or business owner, 911 Restoration of Santa Barbara County is your Fresh Start! We'll communicate with you throughout the entire process, help answer questions related to insurance, and restore your property to its pre-damaged condition. One of our IICRC-certified teams is dispatched within 45 minutes of your call! Contact us today, and one of our friendly representatives will assist you in finding the nearest Santa Barbara County location.
911 Restoration is a licensed, bonded, and insured organization, so customers can feel completely protected when they choose to hire our team.
Customer service is an integral aspect of property restoration, and 911 Restoration of Santa Barbara is committed to making you feel taken care of throughout the entire process.
We want to give you all the information you need to feel comfortable with the work we conduct in your home or business. Technicians can provide property owners with a free visual inspection and estimate to limit surprises during the restoration process.
Call 911 Restoration of Santa Barbara when you experience any property damage in your home or business. When our technicians arrive, they will give you the peace of mind to get through any disaster.
911 Restoration is committed to helping customers get a Fresh Start after fire damage to their homes or business. Our team can tackle any type of fire or water damage restoration project with urgency and efficiency. We're available 24/7 and are committed to an arrival time of 45 minutes or less. If you have experienced fire damage, call the fire cleanup experts at 911 Restoration of Santa Barbara for smoke and odor removal and fire repairs today.
Water Damage Restoration
Water damage in Santa Barbara residential and commercial properties need to be dealt with swiftly. It is crucial to get the moisture out of your home or business as soon as possible to prevent structural damage and mold growth.
Not only can water damage occur from winter storms, but plumbing issues, pipe bursts, and faulty appliances can also cause indoor leaks and floods. 
At 911 Restoration of Santa Barbara, we understand that these problems can happen literally any time, which is why our repair techs are available around the clock to assist you. Our technicians guarantee a 45-minute response time. Call us at (805) 254-8356 and see how we can help.

Once our specialists arrive, they conduct a thorough assessment of the property damage. This initial inspection allows us to determine the extent of the water damage repairs needed and formulate an estimate.
You can count on us to execute a comprehensive restoration strategy that will take care of every aspect of the water damage, including structural repairs and mold remediation.
911 Restoration of Santa Barbara is available to provide water damage restoration and mold remediation the moment you need assistance. So, call the flood cleanup company you can trust to give you the full recovery you need today!
Service area map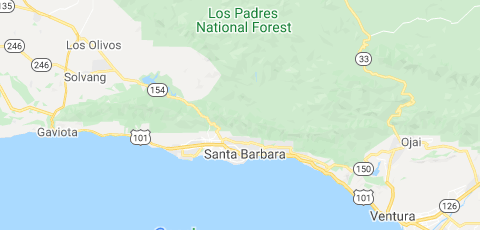 Cleaning Services & Disinfection Solutions
You do not have to try to handle water damage during the coronavirus outbreak on your own in Santa Barbara. In fact, handling this pandemic will require all of us to work together. In order to slow down the spread of the virus and flatten the curve, we all need to do our part. You can help reduce the transmission of the virus by maintaining responsible social distancing and adhering to all quarantine procedures. You can also take care of cleaning your property by contacting 911 Restoration of Santa Barbara.
Here at 911 Restoration of Santa Barbara, we're focused on providing disinfection solutions to you. Our crews work based on the recommendations issued by the CDC and the EPA. You can get back your peace of mind by contacting us for home cleaning services. Don't wait to get help. Contact 911 Restoration of Santa Barbara, as we are locally owned and operated.
Mold Removal
Due to the warm weather and coastal geography, indoor mold is a common problem in Santa Barbara. Mold tends to infest areas of the property that are typically unseen, which makes it possible to grow for an extended period without going noticed.
Fortunately, our technicians are experts at administering prompt
mold removal. We will check all the dark corners of your property to ensure every spore is removed. Our repair techs will trace a mold colony to its life source, which is usually unmitigated water damage.
When our repair techs approach mold situations, they are ready to conduct water damage restoration as needed. By extracting excess water and drying and dehumidifying the property, we prevent future infestations.
On top of advanced mold removal services, technicians facilitate professional mold testing by gathering spore samples. 
Your safety is of the utmost importance to the 911 Restoration family. By administering fast and thorough mold remediation, we can turn your property back into a clean, healthy environment.
Customers can trust that our technicians will repair any water damage found on the premises and eradicate all signs of a current infestation. Call 911 Restoration of Santa Barbara at (805) 254-8356 when you need expert mold restoration, and we will make sure your property passes our mold clearance test today!
Sewage Backup and Cleanup
Property owners need to be extremely careful when they experience Sewage Water Removal on their property.
The safest thing to do is call 911 Restoration of Santa Barbara as soon as a sewage backup occurs. Technicians will arrive within 45 minutes to begin sewage clean-up procedures.
Repair techs will set up containment barriers and use specialized equipment to remove and dispose of the raw sewage safely. They will sanitize the area and administer deodorization techniques.
When you need sewage-related cleanup, call 911 Restoration of Santa Barbara. Their highly trained technicians will return your property back to a safe, clean environment for you and your family.
Fire and Smoke Damage Restoration
When dealing with the aftermath of a fire, it is crucial to receive fire and smoke damage restoration as soon as you can after the flames have been extinguished.
We offer property owners a free fire damage assessment so they can give you an estimate of the fire and smoke damage to come up with an appraisal.
Fire departments use hundreds of gallons of water to put out the flames, which ends up causing significant water damage throughout your home or business.
Our technicians react quickly so they can salvage as much as possible.
Call our fire damage restoration Santa Barbara team at (805) 254-8356. As soon as the fire department leaves your property, we will get started putting the pieces back together today!
Disaster Restoration
Although disaster scenarios may feel like they are far and few between, they do happen.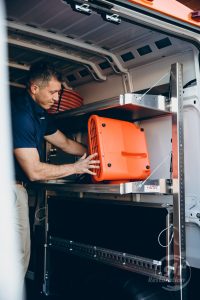 In Santa Barbara, some of the most common disasters are fires and earthquakes.
Technicians will administer complete property restoration. They will take care of everything, from water damage repairs to fire cleanup services.
If it is necessary to remove your belongings from the premises during disaster restoration, repair techs will conduct the pack-out and storage procedures.
911 Restoration of Santa Barbara wants to make your life easier when you find yourself amid a disaster. So, call our repair workers today.
Commercial Restoration
Water damage can affect commercial real estate differently than residential property.
If your commercial property incurs water damage, either by a sewage overflow, pipe burst, or ceiling leak, it may be necessary to shut it down until the restoration is complete.
911 Restoration of Santa Barbara understands the urgency of these situations, and they will respond with speedy water damage repairs. Our commercial restoration technicians will never make customers wait too long for restoration assistance.
The technicians we employ are IICRC certified and have reached the highest standards in the industry.
Repair techs promptly complete the reconstruction and renovation work so you can resume business as usual. So, call our professionals today, and they will turn your commercial property damage into a Fresh Start. Call us at (805) 254-8356 and see how we can help.
Serving the communities of Buellton, Carpinteria, Goleta, Lompoc, Los Olivos, Santa Barbara, Santa Maria, Santa Ynez, Solvang and surrounding area.