Disaster Restoration in Santa Barbara County
As tranquil as Santa Barbara County is, like any other area, it feels the impact of natural disasters from time to time. Santa Barbara is a semiarid region located near fault lines. Earthquakes, storms, and wildfires are the most common natural disasters in the county. The repair techs at 911 Restoration Santa Barbara understand how these severe weather phenomena can damage your property. Our office is open 24/7/365, so you can call us the moment a disaster strikes. Call us at 805-254-8356 and allow us to offer you a free visual inspection.
When you need emergency water damage repairs, technicians will arrive at your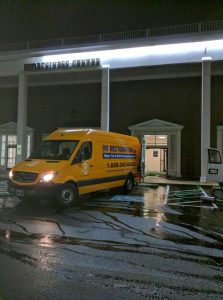 property within 45 minutes, fully prepared to administer same-day disaster restoration services.
Once they get on the scene, repair techs give the property owner a free visual inspection. This initial assessment allows them to determine the extent of the damages and formulate an estimate.
911 Restoration of Santa Barbara wants to make sure you feel comfortable with everything going on with your property, at all times. Our technicians will treat your home as if it is their own.
Customers can confidently hire 911 Restoration of Santa Barbara. We are licensed, bonded, and insured for the complete protection of all our customers.
Call the restoration company you can trust to care and understand what you need to recover from any type of disaster fully. Our technicians will show you that it is possible to turn any situation into a Fresh Start! Call us at 805-254-8356 and see how we can help you.
Immediate Restoration Services in the Wake of a Wildfire
Wildfires are Santa Barbara's most common natural disaster. Since droughts and high winds have become more frequent, wildfires have increased in intensity and frequency.
These fires have been known to spread into populated areas, causing extensive fire damage to homes and businesses.
When large areas become devastated by a wildfire, this can result in burned-down trees, chaparral, and other debris. If there happens to be a storm after, the rainfall can move the debris into communities, causing structural damage.
If your home or business is affected by a wildfire or flood, 911 Restoration of Santa Barbara will respond quickly with disaster restoration services.
Our technicians are experts at administering both water damage restoration and mold remediation. When you incur destruction to your property from a natural disaster, we will take care of every aspect of the recovery process.
Earthquake Preparedness Can Save You Time and Money During a Disaster in Santa Barbara
There is no way to predict an earthquake, making it crucial for property owners to prepare their homes and businesses for impact right now. If you live in California, then you are already at risk.
Fortunately, 911 Restoration of Santa Barbara is ready to help recover any damages incurred from an earthquake with comprehensive disaster restoration services.
Not only can an earthquake cause extensive property damage, but it can also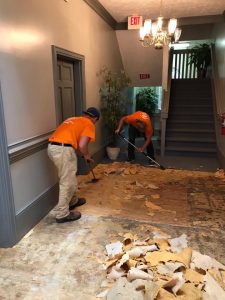 cause plumbing leaks and electrical fires and destroy your personal belongings. Our technicians are qualified to repair damages from any of these issues, and more.
Your safety is of the utmost importance to our entire staff, and we want to help you and your family stay safe during an earthquake. There are some simple things you can do to minimize your losses when the big one strikes.
Make sure you secure large items such as bookcases, refrigerators, televisions, speaker systems, and anything heavy hanging from your walls. If there are any apparent cracks in your foundation or roof, repair them now before an earthquake makes them worse.
Keep a supply kit that contains enough food and water to last everyone in your family for at least three days. If you have pets, remember to pack supplies for them as well. Include medications, batteries, a fire extinguisher, and a whistle.
Whether dealing with water damage, fire, or sewage water removal, professionalism is always our top priority. We employ the most qualified technicians in the industry. They are IICRC certified, having reached the industry's highest standards set by the Institute of Inspection, Cleaning, and Restoration.
If you have any questions regarding earthquake preparedness or need assistance after a disaster has caused property or water damage in your home or business, call 911 Restoration of Santa Barbara today. Our technicians will show you how a disaster can actually be a Fresh Start! Call us at 805-254-8356
Serving the communities of Buellton, Carpinteria, Goleta, Lompoc, Los Olivos, Santa Barbara, Santa Maria, Santa Ynez, Solvang and surrounding area.