Water Damage and Mold Removal in Santa Barbara
Santa Barbara is a gorgeous community known for beautiful properties and relaxed, coastal living. But due to winter storms, wet weather, and property incidents like pipe bursts and sewage backups, maintaining that charming way of life requires the presence of an expert flood cleanup and certified mold removal contractor. Fortunately for local home and business owners, you can find excellent, compassionate water damage restoration in Santa Barbara just by calling 911 Restoration.
911 Restoration of Santa Barbara provides emergency flood cleanup services for both residential and commercial properties. Our IICRC certified technicians are ready to respond to your pipe burst, property flood, or any other disaster 24/7/365. And no matter when you call — day, night, or holiday — we're at your door in 45 minutes or less, guaranteed. Call us at 805-254-8356 and allow us to offer you a free visual inspection.
The water damage restoration crew understands how stressful it is to have your beloved property threatened by an unexpected water incident. We work hard to bring you immediate peace of mind, and even provide a free insurance consultation. The water damage restoration process is often more complicated than property owners expect, and you may need services such as sanitation, structural dehumidifying, drywall repair, mold inspection, or mold decontamination in order to fully restore your property. It's not always clear what your insurance will cover, but you can trust that a friendly flood cleanup expert will sit down with you to go over your policy so you know exactly what to expect. We even assist with claim filing.
From providing the highest standards in service to going the extra mile to put your mind at ease, the water damage restoration and mold remediation professionals at 911 Restoration of Santa Barbara are your best allies in a crisis. Call now for fast, friendly property restoration.
24/7 Emergency Flood Cleanup In Santa Barbara
It doesn't matter if you own a home or a business—when a pipe bursts or a property flood strikes, you cannot afford to wait for water damage restoration. If you own property in Santa Barbara or the surrounding area, you don't have to. The flood cleanup crew at 911 Restoration of Santa Barbara is available to you at any hour of the day or night, and you can trust that we'll be on the scene in 45 minutes or less, every single time.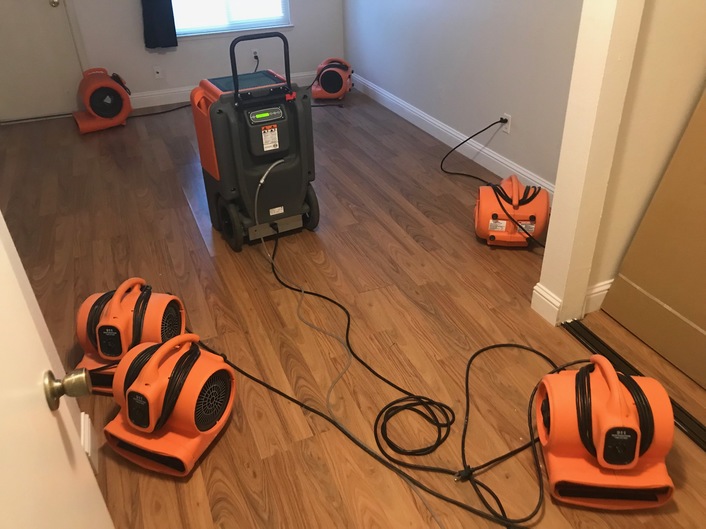 These highly trained water damage restoration specialists come prepared to handle every aspect of your property's recovery. Not only do we provide emergency services such as boarding up, storm repair, roof repair, and water or sewage extraction, but we also manage all the follow-up tasks needed to restore your home or business to better-than-new condition. We use professional fans to make sure no drop of moisture is left in your property. We repair all destruction, whether the compromised material is a caved-in roof or rotted drywall. The team conducts a thorough mold inspection and complete mold remediation themselves, beginning the process by packing out and storing your at-risk belongings to ensure you don't have any additional losses during the flood cleanup process.
The water damage restoration pros at 911 Restoration aren't focused just on getting rid of the water. We are dedicated to making your home or business better than new again. If you need help after a pipe burst or any other water disaster, call 911 Restoration of Santa Barbara for comprehensive service and a truly Fresh Start. Call us at 805-254-8356 and see how we can help.
Certified Mold Removal Services
If you've recently had water damage, you're at a high risk for mold contamination. From black mold on walls to mold in your carpet, an infestation develops quickly after a water incident, and complete removal requires the expertise of a true professional.
Every flood cleanup technician at 911 Restoration of Santa Barbara is also an IICRC certified mold remediation expert. They are fully qualified to provide a complete mold inspection and to handle mold removal safely, no matter what type of species has invaded your home or business. The mold remediation crew always follows water damage restoration services with a mold inspection, careful to check all the dark, hidden corners where water seeps and fungus thrives. If they find any growth during the mold inspection, they handle mold removal with the utmost care and caution.
A mold infestation can be dangerous both for the structure of your property and for your health. Most varieties of mold release particles that can cause harm to your health when inhaled. This is why it is especially important to choose a certified mold remediation specialist instead of using your own cleaning products to remove mold. Do-it-yourself mold removal puts you in direct contact with a harmful organism. If you call 911 Restoration for mold decontamination, not only are you safer for the mold removal process, but you can also count on these professionals to dehumidify the structure where mold grew, preventing future growth.
For both flood cleanup and mold removal in Santa Barbara and beyond, the crew at 911 Restoration are all about providing comprehensive solutions. Call today for immediate peace of mind and a property that stays strong long into the future. Call us at 805-254-8356.
Servicing the cities of Buellton, Carpinteria, Goleta, Lompoc, Los Olivos, Santa Barbara, Santa Barbara County, Santa Maria, Santa Ynez, Solvang, and surrounding areas.