Fire Damage Restoration in Santa Barbara County
Property fires are one of the most destructive occurrences that can happen to a home or a business. It only takes five minutes for flames to engulf a structure, filling it with smoke, ash, and soot. 911 Restoration Santa Barbara understands the importance of responding quickly to situations involving fire and smoke damage. Our technicians know that the aftermath of the fire is just the beginning of your recovery. As soon as repair techs arrive on the scene, they give property owners a free fire damage assessment. This initial inspection allows them to strategize a fire cleanup plan specific to your property immediately.
The faster you call 911 Restoration of Santa Barbara, the faster our technicians can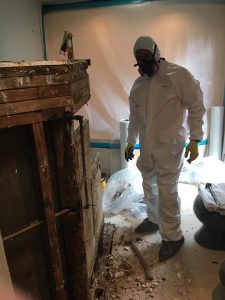 begin administering expert fire and smoke damage restoration. Call us at 805-254-8356 and allow us to offer you a free visual inspection.
By removing the ash, soot, and smoke quickly after the flames have been extinguished, the repair techs can completely clear your property of that strong smoke odor.
Along with permanent odor removal, technicians administer complete property restoration. They will deliver reconstruction and renovation services to make your home look better than new.
Call 911 Restoration of Santa Barbara as soon as the fire is contained at 805-254-8356. We will provide you with fire cleanup services sure to give your property a complete recovery.
Water Damage Restoration Is an Integral Part of Fire Cleanup
When the fire department arrives at your property, they use gallons upon gallons of water to extinguish the flames.
Property owners may be shocked at the amount of water damage created by fire hoses. Sometimes the flooding can be more severe than the fire and smoke damage.
Fortunately, our technicians are experts at administering both water damage restoration and mold restoration. On top of providing fire and smoke damage removal, they will extract the floodwater and conduct drying and dehumidifying services.
By drying out the property after repairs have been made, the repair techs will help prevent mold from growing inside your home or business.
We want to salvage as much of your property and your belongings as possible. If it is necessary to remove your furniture and other personal items from the premises, technicians will facilitate the pack-out and storage procedures.
Customers can depend on 911 Restoration of Santa Barbara to take care of them throughout the entire fire damage restoration ordeal. Call the team at that will give you the peace of mind you deserve today! Call us at 805-254-8356 and see how we can help you.
911 Restoration Is the Trusted Fire Information Center of Santa Barbara County
You don't need to face the aftermath of a fire on your own. 911 Restoration of Santa Barbara will be there to guide you through every aspect of the cleanup process.
Statistically, it is not common for property owners to experience more than one fire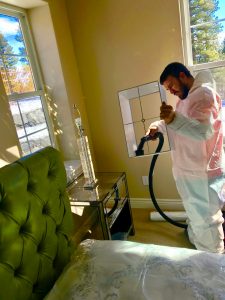 in their home or business. Since this is a rare occurrence, many customers have not had to file an insurance claim for fire damage before.
In order to make the insurance logistics easy for our customers, a staff member will provide you with a free insurance consultation.
By allowing a professional to go over your insurance policy with you, we will be able to determine the coverages you are entitled to receive from your provider. Technicians on-site will assist you in taking inventory of your damage and creating a lost itemization list.
Repair techs will even file your insurance claim and directly bill your insurance company, so you don't have to concern yourself with submitting this information on your own.
Customers can feel at ease as soon as our professionals arrive on the scene. All of our technicians are IICRC certified, and the entire restoration company is licensed, bonded, and insured.
When you work with 911 Restoration of Santa Barbara, you can be sure that you are getting the help you deserve. Call our 911 restoration inc company when you need help from a team that cares about and understands your needs. We will turn your disaster into a Fresh Start today! Call us at 805-254-8356