Water Damage and Mold Removal in Solvang
Solvang is a charming place to live and work. Unfortunately, the local area is characterized not just by Danish heritage but also by a high risk of water damage. Homes and businesses alike are too frequently the victims of flooding, winter storm damage, and run-of-the-mill water incidents such as pipe bursts and sewage backups. But no matter who you are or what type of water damage your property has suffered, you can always count on 911 Restoration of Santa Barbara for fast, friendly water damage restoration in Solvang and beyond.
911 Restoration of Santa Barbara provides flood cleanup 24/7/365. That means you can call us at any hour of the day or night, even on weekends and holidays, and a flood cleanup crew will be on the scene in 45 minutes or less, guaranteed.
The water damage restoration technicians are IICRC certified and rise to the very highest standards in flood cleanup and mold remediation service. There is nothing they cannot do. Do you need emergency boarding up? Sewage extraction and sanitation? Roof repair? Mold inspection and mold decontamination after a pipe burst? Your dedicated water damage restoration staff has been extensively trained to handle any eventuality. 
The team also serves you with compassion and understanding. They know how much of yourself you have put into your property, and they work with urgency to restore your home or business to better-than-new condition. They also go to great lengths to provide total transparency, even offering a free insurance consultation so you can go into the water damage restoration process knowing exactly which services are covered by your provider and which costs will fall to you.
In the end, the water damage restoration and mold removal crew promise to turn today's disaster into a Fresh Start for you and your property. Call 911 Restoration of Santa Barbara today. This nightmare will be history before you know it.
Emergency Flood Cleanup for Homes and Businesses
Whether you own a house or a tasting room, a condo or a hotel, let 911 Restoration of Santa Barbara be your first and only choice for flood cleanup in Solvang.
The water damage restoration professionals promise a response time of 45 minutes or less at any hour of the day or night. The longer moisture lingers in your home or business, the more extensive your damages will be. Your driven flood cleanup crew works with total determination to limit potential damages with an immediate response and skillfully delivered emergency services, including boarding up, storm repair, roof repair, sewage extraction, water removal, and packing out and storing your valuable belongings. And they don't slow down when the water is gone. Even dampness within the structure of your home or business can cause long-term damage from rotting or mold contamination, so the team brings in professional fans to dry out the area completely.
They also understand that your problem isn't truly fixed until your property is as good as new. It's difficult to truly feel at peace in a contaminated home or charm customers with a less-than-perfect property. That's no problem for this crew. The water damage restoration experts are trained in damage repairs, mold inspection, and mold remediation… which means they are equipped to fully restore your property with new materials.
Storm destruction and pipe bursts certainly feel like a crisis when you're in them, but if you call 911 Restoration of Santa Barbara, you'll discover that this terrible moment is really just an opportunity to rebuild, better than ever. Try it and see for yourself.
Certified Black Mold Remediation in Solvang
At 911 Restoration, we get a lot of questions about black mold. How do I know if I have black mold in my walls? Can I use cleaning products to remove black mold? How dangerous is black mold really?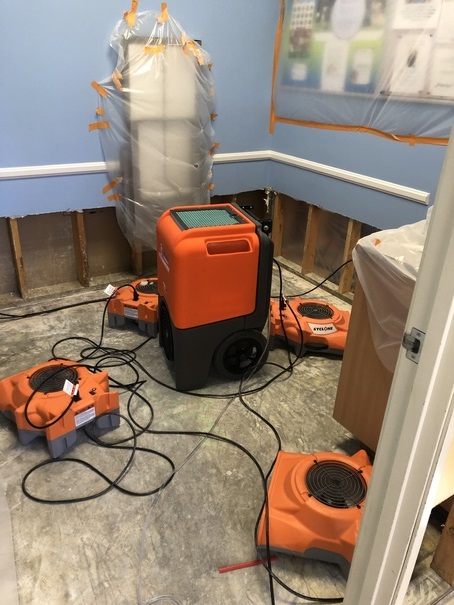 First things first: if you're worried you might have black mold on your property, call 911 Restoration for a professional mold inspection and mold removal right away. This variety of mold is toxigenic and releases mycotoxins into the air you breathe. Without prompt mold remediation, you are at risk of breathing these mycotoxins in and becoming vulnerable to a variety of health conditions ranging from allergies to heart problems. While black mold does have some distinctive features, it's best to get a mold inspection from a certified mold remediation contractor rather than trying to identify the colony and handle mold removal yourself.
Household cleaners are not reliable in mold removal efforts, nor can your own DIY mold decontamination efforts prevent a repeat infestation. Mold spores remain in the air long after the colony is gone, which means even if you scrub black mold away, it could return soon after. The mold remediation workers at 911 Restoration follow mold removal with structural dehumidifying. This step dries out the structure where mold grew right down to its core, making sure there is no moisture left to rise to the surface and welcome a new infestation.
Just as with water damage restoration, your safety from mold depends on the expertise of compassionate professionals. For that kind of care and excellence, turn to 911 Restoration of Santa Barbara.
Servicing the cities of Buellton, Carpinteria, Goleta, Lompoc, Los Olivos, Santa Barbara, Santa Barbara County, Santa Maria, Santa Ynez, Solvang, and surrounding areas.