Water Damage and Mold Removal in Lompoc
When a pipe bursts out of nowhere or your property is shaken by a winter storm, call 911 Restoration of Santa Barbara. Our IICRC-certified technicians provide 24/7 flood cleanup in Lompoc and the surrounding areas. That means you can reach these water damage restoration specialists at any time of the day or night, any day of the year. When your call comes in, they're instantly on the move. In fact, they guarantee an arrival time of 45 minutes or less.
Every technician on staff has been extensively trained in water damage restoration and mold remediation. They are true experts at what they do, and they come prepared to handle any catastrophe your water damage incident has created. Need emergency roof repair? Sewage backup cleanup? Structural drying? Mold inspection? Mold decontamination? They do all of that and more… whatever it takes to make your property better than new again.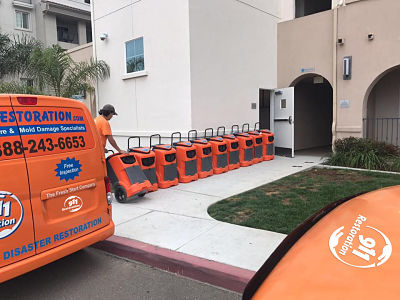 Worried about the cost of water damage restoration and mold removal? They've got you covered there, too. These professionals work with speed and strategy to minimize damages to begin with, and they provide a free insurance consultation to make it as easy as possible to receive the coverage you're entitled to. A flood cleanup expert sits down with you to explain which services are covered by your provider, from water extraction to mold removal. They assist with loss itemization, claim filing, and even bill your provider directly.
The bottom line is that when it comes to flood cleanup in Lompoc, you're never alone. You can always turn to 911 Restoration of Santa Barbara for swift, compassionate service. Call today.
Residential And Commercial Water Damage Restoration In Lompoc
It doesn't matter if you own a home or a business. When a pipe burst, sewage backup, or any other form of water damage strikes, you need help and you need it immediately.
The water damage restoration crew at 911 Restoration understand the urgency of your situation. They work with focus and speed, treating your home or business as if it were their own. The driving goal is to give you a Fresh Start by leaving you with a property that feels as clean and new as the day you first moved in. 
They accomplish this by providing comprehensive water damage restoration services. You never need to call an additional contractor when you make your first call to 911 Restoration of Santa Barbara. Your dedicated cleanup crew takes care of everything, including structural repairs, mold inspection, and mold removal. They even begin flood cleanup by packing out and storing any belongings at risk of being damaged during the water damage restoration process, thus preventing any additional and unnecessary destruction. They also use professional fans to dry your property from top to bottom, preventing long-term problems created by lingering moisture.
At every step of the process, you can count on the water damage restoration team to communicate clearly and offer complete transparency. You always know what they're doing, why they're doing it, and what it means for you and your property.
To the experts at 911 Restoration of Santa Barbara, you're more than a customer. You're a valued member of the community. Call now for the care and service you deserve.
A Certified Mold Restoration Company
Mold is a harmful organism that eats away at the structure of your home or business. An infestation also poses a threat to your health, releasing harmful particles into the air you breathe.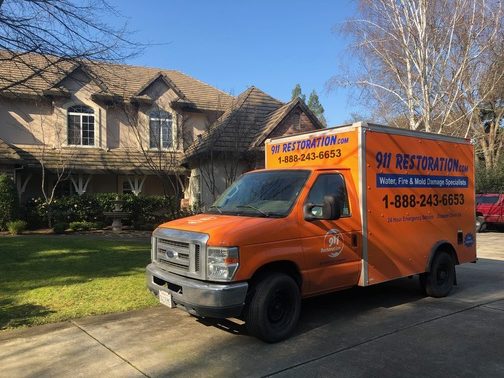 This is why the water damage restoration technicians at 911 Restoration are also IICRC certified mold remediation specialists. They know how quickly mold forms in the wake of a pipe burst or other water disaster, so they come prepared to conduct a complete mold inspection on your property. And if the mold inspection reveals an infestation? Then, this expert mold remediation crew handles mold removal with great care and cutting-edge techniques. Once the colony has been eliminated, the mold decontamination crew dehumidifies the structure where mold grew. This makes it nearly impossible for spores remaining in the air to start a new infestation on the same surface.
Some property owners wonder why it's so important to seek out a certified mold remediation contractor. Why not just avoid the cost of mold removal by using household cleaners?
The truth is that do-it-yourself mold removal techniques are rarely successful. Not to mention, where there is one infestation, there is often another out of sight. If you tackle mold remediation without first getting a professional mold inspection, you may not be addressing the complete problem. More importantly, if you have a dangerous infestation such as black mold, your own mold removal techniques will put you in direct contact with a toxigenic organism.
Instead, do what's best for your property and yourself: Call 911 Restoration of Santa Barbara for mold remediation in Lompoc and beyond.
Servicing the cities of Buellton, Carpinteria, Goleta, Lompoc, Los Olivos, Santa Barbara, Santa Barbara County, Santa Maria, Santa Ynez, Solvang, and surrounding areas.