Advanced Restoration Equipment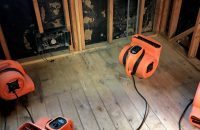 911 Restoration is a national leader in all things restoration, from water and fire damage to mold removal and more. We are proud to offer our services to both residential and commercial customers. Our team of experts is fully trained and certified to handle any restoration project, big or small. No matter what your needs are, we are here to help you get your life or business back to normal as quickly as possible.
If you are dealing with any type of water, fire, or mold damage, or if you simply need some general cleaning and restoration services, give us a call today.
We are available 24/7/365 to take your call and start helping you right away.
We Only Use The Best Equipment In The Industry
At 911 Restoration of Santa Barbara, we understand the importance of using only the best restoration equipment in the industry. That's why we've invested in the latest and greatest technology to get your home or business back to its pre-loss condition. From residential and commercial dehumidifiers to industrial air scrubbers, we have the right equipment for the job.
Our team of restoration experts is certified and trained in the use of all our equipment. Contact us today for a free consultation. We'll be happy to answer any questions you have and help you get started on the road to restoration.
Trained and Certified For All Restoration Projects
If you are dealing with water damage, don't delay – call for a Fresh Start today! While suffering from water damage, you need the help of a water damage restoration company to restore your property. We're a water damage restoration company that specializes in water damage repair, water extraction, and more. We have years of experience in the water damage restoration industry and our experts are certified by the IICRC, the leading organization in water damage restoration.
911 restoration is available 24/7/365 to take your call and our water damage restoration experts will be on-site within 45 minutes of your call. We understand the urgency of water damage repairs and will work quickly to mitigate the damage. 911 Restoration also works with your insurance company to help you file a claim and get the coverage you need.