Commercial Restoration in Santa Barbara County
There are five main types of commercial real estate: hotels, retail, multifamily, office, and special purpose. Whichever type of commercial property you own, it is crucial to keep it protected against water damage, sewage overflows, fires, mold, and any other problem that can destroy your property. If you find yourself in any of these scenarios, you can depend on 911 Restoration of Santa Barbara to provide you with expert commercial restoration. Our office is open 24/7/365 to take your calls. Call us at 805-254-8356 and allow us to offer you a free visual inspection.
Water-based disasters are the most common incidents to impact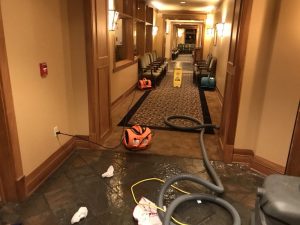 commercial properties. The technicians at 911 Restoration Santa Barbara are prepared to help you at a moment's notice.
Repair technicians are guaranteed to arrive at your building within 45 minutes to administer water damage restoration and mold remediation when you find yourself dealing with a leak or flood emergency.
Customers can feel completely safe under the care of our technicians. 911 Restoration employs IICRC-certified repair techs who have reached the highest standards in the industry.
Not only do we work with qualified, experienced repair techs, but our company is licensed, bonded, and insured for the protection of all our customers.
Call 911 Restoration of Santa Barbara when your building incurs water damage, fire and smoke destruction, or mold issues. Our highly trained technicians will provide you with the commercial restoration you need to get your business up and running again. Call us at 805-254-8356 and see how we can help.
24-Hour Emergency Commercial Restoration Services
There are many ways for water damage to invade your commercial property. Ceiling leaks, toilet overflow, or cracked plumbing systems, to name a few, can all result in property damages.
911 Restoration of Santa Barbara understands that water disasters can occur at any time, which is why our repair techs are available around the clock to assist you the moment you need commercial restoration.
Technicians will conduct complete water extraction, drying, and dehumidifying services to get your doors open again as soon as possible.
If a sewage backup caused the flood, we take all the necessary steps to decontaminate and sanitize the area. We also focus on thoroughly drying out your building to prevent mold infestations from starting.
Mold can begin to grow from water damage in as little as 24 hours, which is why the technicians respond so quickly to issues involving moisture. If mold is discovered inside the building, we will promptly administer local mold remediation services.
Call 911 Restoration of Santa Barbara at 805-254-8356 when you need help from an experienced restoration company that is available virtually any time to provide you with the commercial restoration you need.
Keeping Your Commercial Property Protected From Water Damage
With water being such a destructive force, it is vital to keep your property protected from every form it comes in. Whether you experience a roof leak or property flood, owners should make sure all their bases are covered.
Purchasing commercial property insurance is the only way to ensure that you are covered from all angles. It is necessary to make sure your policy includes all types of water damage.
This may seem counterintuitive, but a standard policy does not cover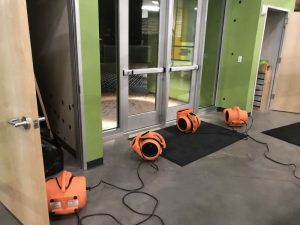 all instances of flooding.
If your building flood occurs due to a violent storm, an overflowing body of water, or plumbing backup caused by owner negligence, then your insurance provider may not cover the repairs.
The only way to be sure that you have sufficient coverage is by purchasing a supplemental flood insurance policy. This amendment to your standard insurance plan will cover all flood damages.
Our staff will provide you with a free insurance consultation if you need help figuring out what your policy covers. Having a professional go over your insurance plan with you will ensure you fully understand the coverage you are entitled to.
Call 911 Restoration of Santa Barbara when you need answers regarding insurance, commercial restoration, flood damage, or anything else going on with your building. Our staff members will help you get the Fresh Start you deserve! Call us at 805-254-8356