Mold Removal in Solvang
If charm were enough to rescue property owners from the mundane challenge of mold contamination, home and business owners in Solvang would be all set. Unfortunately, the community's character can't stop the inevitable consequences of frequent water damage. But don't worry. Quality mold inspection and mold removal in Solvang is as easy to come by as a wine tasting room.
911 Restoration of Santa Barbara serves Solvang and the surrounding community with expert mold remediation by highly trained, IICRC-certified mold decontamination technicians. Every staff member embraces the company's trademark fresh start philosophy, which means that when they approach your mold problem, they do so with the determination to turn this disaster into a new beginning. By the time they leave your home or business, you will have a property that feels cleaner than ever and is fortified against future infestations. They accomplish this by providing comprehensive mold remediation services meant to eliminate the source of your mold problem, get rid of the colony, and make your property inhospitable for mold spores.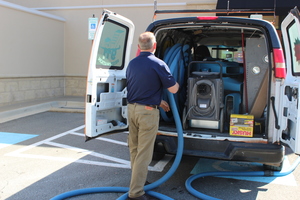 Just as important as quality service is our commitment to customer care. The mold decontamination crew recognizes the stress you're under when you discover mold taking over your property. They know how hard you've worked to keep your home or business safe from an invasion like this, and they vow to do whatever it takes to make your property feel like it's your own again. They also deliver immediate peace of mind with clear communication and professional transparency.
If you need a mold inspection or mold removal in Solvang or the surrounding area, turn to the contractor who treats you like a neighbor. Call 911 Restoration of Santa Barbara today.
Residential and Commercial Mold Remediation in Solvang
No matter what type of property you own, a mold infestation can be a hazard to both your personal happiness and your professional routine. That's why 911 Restoration of Santa Barbara provides efficient, effective mold cleanup for both residential and commercial properties.
You can count on the mold remediation specialists to conduct a detailed mold inspection of your property, taking great care to examine spaces where mold likes to hide. It doesn't matter if you have mold growing in your walls, tucked under your floorboards, or spreading through your pipes—these experts will find it.
After the mold inspection is complete, the crew devises a strategy for mold remediation appropriate to your infestation and property. They attack mold cleanup with the latest tools and most advanced methods, careful to avoid spreading mold spores throughout the process. When mold removal is complete, they dehumidify the building.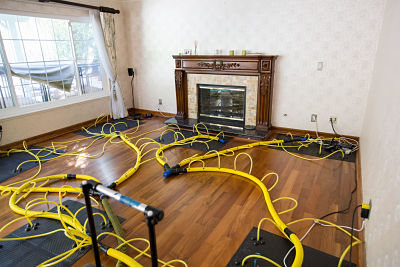 A fungal infestation is especially frustrating because even though it takes the appearance of a stain, it is in fact a living organism that feeds on your property's surfaces. More often than not, this means your walls, ceiling, or floors are compromised by mold damage. But as long as you call 911 Restoration for mold decontamination, you don't have to worry about contacting another contractor for property repairs. Our mold cleanup crew has it covered.
Believe it or not, this nasty mold infestation isn't forever. Call 911 Restoration of Santa Barbara so you can move on quicker than you ever thought possible.
Is Black Mold Dangerous?
People often ask us if all the buzz about toxic black mold is truth or hype. If you're wondering, too, here's your answer.
Black mold is technically "toxigenic," which means it releases mycotoxins that are bad for humans when inhaled. "Toxicity" doesn't mean it's definitively deadly, but it does mean you're at a heightened risk for developing health problems ranging from allergies to headaches to respiratory issues and heart conditions.
If you suspect you have black mold, you should certainly enlist the help of a certified mold removal contractor like 911 Restoration right away. However, it's important to note that this is true no matter what type of fungus is growing in your home or business. Brown mold, gray mold, white mold… they all present certain risks to your health and they all cause costly destruction to your property.
The most important thing to know is that it is not safe to attempt mold removal yourself. Even if you're sure it's not black mold, scrubbing at any colony will disrupt the mold and cause it to release allergenic or pathogenic particles into the air you breathe. The safest way to handle mold cleanup is to keep a safe distance, prevent other humans and pets from approaching the colony, and call the mold decontamination technicians at 911 Restoration right away.
Whether it's black mold or white mold, the mold remediation experts will vanquish your infestation swiftly and safely. Call 911 Restoration of Santa Barbara today.
Servicing the cities of Buellton, Carpinteria, Goleta, Lompoc, Los Olivos, Santa Barbara, Santa Barbara County, Santa Maria, Santa Ynez, Solvang, and surrounding areas.