Mold Removal in Santa Barbara County
Has your home or business been contaminated by mold? Or do you only suspect that it has due to frequent, unexplained headaches or a mildew-like smell creeping from behind your walls? Whether you are certain your refuge has been invaded by a fungus or you're just noticing some of the telltale signs, you can always come to 911 Restoration for a comprehensive mold inspection and expert mold removal in Santa Barbara County.
911 Restoration of Santa Barbara is licensed, insured, bonded, and locally owned and operated. The company is staffed with IICRC certified mold decontamination technicians who have undergone rigorous training to master every aspect of the mold remediation process. These professionals are prepared to provide a thorough mold inspection, safe and effective mold removal, structural dehumidifying, and even property repairs to make your home or business new again. Call us at 805-254-8356 and allow us to offer you a free visual inspection.
Of course, those are their professional qualifications. As members of the Santa Barbara community, these mold cleanup specialists treat every customer like the valued neighbor they are. You can rely on our dedicated mold remediation staff for frequent, clear communication and genuine empathy for you and the stressful situation you're in. 
At 911 Restoration, we love Santa Barbara County as much as you do, and the mold decontamination staff believe in doing whatever it takes to maintain the properties that make this community so remarkable. If you need mold removal in Santa Barbara County, turn to the contractor that values your property as deeply as you do. Call 911 Restoration today at 805-254-8356.
Mold Cleanup For Residential And Commercial Properties
Mold spores don't care what type of property you own, where it's located, how old it is, or how you use it. If they can find a damp space to land, they're moving in.
That's why 911 Restoration of Santa Barbara services both residential and commercial properties throughout Santa Barbara County. The mold cleanup crew is here for you no matter how extensive your infestation is or what your unique needs are. They know you can't afford to waste another minute before getting back to your life and getting back to business.
The mold remediation staff begin by providing a mold inspection to carefully examine every square inch of your property for additional mold colonies. Once they believe the inspection has revealed all of the growth, they approach mold removal safely and effectively. During the mold cleanup process, they use advanced techniques to prevent the spread of spores and mycotoxins. Then they bring in specialized fans to dehumidify the structure to its core, protecting your home or business from a repeat infestation.
Finally, to ensure you have the Fresh Start you deserve, the mold remediation workers test the structure where mold grew to make sure it's still sound. If there is any damage as a result of the infestation, the mold cleanup crew repairs or replaces the contaminated material, restoring your home or business to its former glory.
If you're wondering if your property can ever be the same after mold damage, the answer is yes. You only have to call 911 Restoration of Santa Barbara at 805-254-8356.
Toxigenic Mold Decontamination in Santa Barbara County
While mold can wreak havoc on the materials that define your property, most home and business owners fear the health risks of toxigenic mold above all else.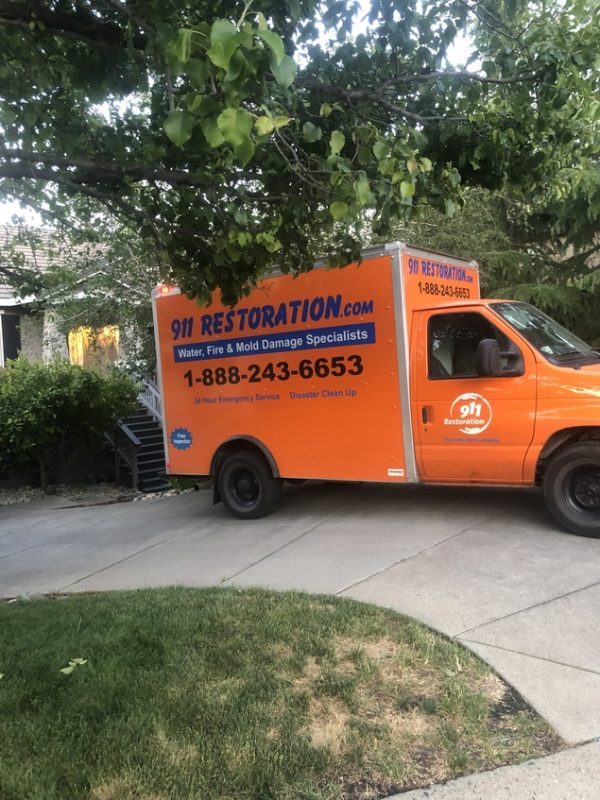 More commonly known as "black mold," toxigenic mold fills the air you breathe with mycotoxins if it's left too long without mold decontamination. This is why it's dangerous to have black mold in a house or business. In order to ensure your safety, you must contact a certified mold decontamination specialist to perform a mold inspection and comprehensive mold removal right away.
Resist the temptation to attempt mold cleanup with home remedies, especially if you suspect you have a toxigenic infestation. Household cleaners rarely clean black mold and other fungus varieties with much success, and the problem is likely to return without the structural dehumidifying service only an expert can provide. More importantly, however, scrubbing at a toxigenic mold colony is dangerous to you, as it puts you in direct contact with mycotoxins that can collect in your lungs and cause long-term health problems. Forget the home remedies and reach out to a qualified mold removal contractor like 911 Restoration of Santa Barbara.
As far as the mold decontamination experts are concerned, your health and safety take top priority over all else. If you're facing a devastating mold problem, rest assured that you can get it safely and more quickly than you ever thought possible. Call 911 Restoration of Santa Barbara for the Fresh Start you deserve. Call us at 805-254-8356.
Servicing the cities of Buellton, Carpinteria, Goleta, Lompoc, Los Olivos, Santa Barbara, Santa Barbara County, Santa Maria, Santa Ynez, Solvang, and surrounding areas.