Mold Removal in Lompoc
Does it feel like your property has been taken over by a relentless mold infestation? Fungus has a way of making home and business owners feel completely powerless. Mold spreads quickly, is impossible to completely scrub away, reappears when you think it's gone, and can even cause dizziness and headaches for the human beings who live with it. Not to worry. 911 Restoration of Santa Barbara has the solution for all these problems and more. If you need mold removal in Lompoc or the surrounding area, turn to the mold restoration company that offers total peace of mind and lasting results.
The IICRC-certified mold decontamination staff at 911 Restoration take care of everything you need to put this nasty mold problem behind you. They provide a sense of security by conducting a property-wide mold inspection, ensuring that every trace of growth has been accounted for. They use the most advanced techniques and tools for genuinely effective mold removal, and they dehumidify the structure of your property so you don't have to worry about the infestation returning any time soon.
The mold decontamination workers at this locally owned and operated business believe they have a responsibility to deliver the very best service for their neighbors. For them, that means providing not just highly skilled service, but also compassionate care. You can be sure this crew will answer any questions, address every concern, and perform mold decontamination with total transparency, so you never have to wonder about the quality or necessity of the work being performed.
Full-Service Mold Removal In Lompoc
When the 911 Restoration mold decontamination crew arrives at your home or business, their objective is far bigger than mere mold cleanup. They plan to restore your property completely, turning the mess into a Fresh Start.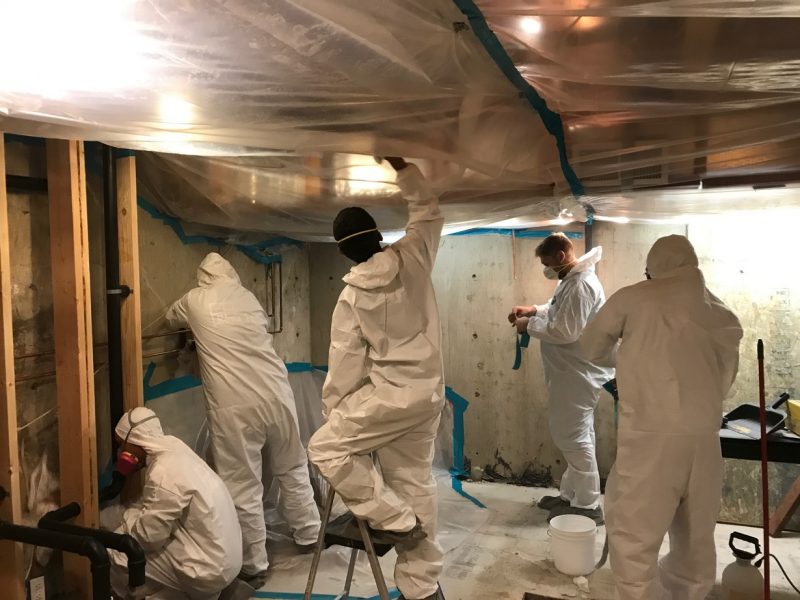 Mold is often more destructive than property owners realize, eating away at your walls, ceiling, glue, and other structures and materials. As a result, true mold remediation requires damage repair and material replacement. This is why our experts aren't only trained in mold inspection and mold removal; they also know how to repair the surfaces and structures of your property so you're left with a home or business that's stronger than ever.
The mold remediation service also includes a complete mold inspection to make sure every growth has been dealt with and structural dehumidifying to prevent a brand new fungal attack. As you may know, mold is difficult to get rid of, no thanks to the tiny spores that travel through your air ducts and get caught in the fibers of your carpet. There are countless ways for an infestation to return even after you feel like you've mastered mold removal with a bottle of bleach.
This is why you need a certified mold remediation specialist like the crew at 911 Restoration. The mold decontamination staff comes prepared to eliminate your infestation entirely, no matter how far mold has spread through your property or how relentless the particular species is.
Mold doesn't have to control you anymore. Call 911 Restoration of Santa Barbara for mold removal in Lompoc or the surrounding area. We'll put you back in charge.
Will Carpet Steaming Remove Mold?
Many property owners approach mold cleanup specialists about the frustration of carpet mold. Often, their hope is that they can eradicate an infestation through carpet steaming. Unfortunately, carpet mold removal is far more complicated.
Even if carpet cleaning is successful at getting mold out of a carpet, you still have not dealt with the root of the problem. That's because a mold infestation begins when microscopic mold spores discover a damp surface where they can spawn a full-blown colony. The trouble with carpet is that it's a porous surface, meaning mold spores have plenty of places to hide and escape the interference of cleaning agents. Even worse, spores often settle underneath the carpet, forming an infestation on the floorboards below.
This leads to an endless cycle of attempted mold cleanup and new infestations. The good news is that 911 Restoration can help. Mold remediation workers use advanced mold inspection and mold removal methods to be certain they've cleaned every area of growth, including surfaces hidden beneath your carpet. If it appears that the carpet cannot be salvaged, they handle carpet removal for you, taking great care to transport the compromised rug out of your property without spreading spores. They use mold decontamination and structural dehumidifying methods to ensure the infestation is truly gone and unlikely to return.
As complicated as mold cleanup can be, 911 Restoration has you covered. Call today for exceptional service you can trust.
Servicing the cities of Buellton, Carpinteria, Goleta, Lompoc, Los Olivos, Santa Barbara, Santa Barbara County, Santa Maria, Santa Ynez, Solvang, and surrounding areas.