What to Do In Case of Sewage Overflow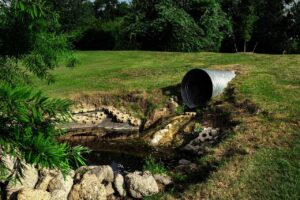 Sewage overflow occurs when waste material and water are injected into an environment where they don't  belong. If sewage drains overflow out in the open, the contaminated water can flow into the nearest water body.
The correct way of disposing of sewage water is by processing it at a sewage water treatment plant. Any situation in which this doesn't happen can be considered as a sewage overflow situation.
However, sewage backup may occur inside your home as well, where clogged pipes in your kitchen or bathroom can start to overflow and discharge waste materials onto surfaces you frequently use.
It is important to understand that sewage overflow includes a discharge of unsanitary water and components from nearby sewers as well. Hence, it is crucial to clean it up as soon as possible.
What Can Cause A Sewage Overflow?
A sewage overflow can be a result of power outages, equipment malfunction, damaged pipes, heavy rainfall, or when the pipes are choked with irresponsibly discarded materials.
What To Do After A Sewage Overflow?
It doesn't matter if you want to place your trust in professional sewage cleanup services or try to do it yourself at home. These are some important measures for you to look over before you try anything:
Evacuate The Property
In case of sewage backup, your first step should be to evacuate seniors, children, and pets from your residence so that they are nowhere near the affected area.
Shut Off Water & Electricity Supply
You should immediately contact sewage cleanup services in your area so they can help you shut off the water, gas, and elected supplies for to your home. Turning the water and power supply off keeps you safe and prevents any further electrocution or other damages.
Wear Protective Gear
Always make sure that you wear protective equipment so you are not exposed to the waste material that comes out of a sewage backup. The waste material can contain harmful bacteria which should not touch your fingernails or toes as they can enter your body through them. Always opt for waterproof gloves and boots to keep yourself safe during this crisis.
Open Doors & Windows
Ventilation is also incredibly important because sewage overflow or backed-up material can come with foul smells. Opening doors and windows can help you ventilate your property and make the scenario breathable for you or the technicians to carry out their services.
Save Salvageable Items
Skilled technicians and workers from switch cleanup services will also recommend you take away any dry items from the house in order to prevent further damage. Of course, everything that has already come in contact with sewage material or water needs to be dried, cleaned and dehumidified. However, if there is a chance for you to still save something, you should get everything out of the way in time.
Use Proper Chemical Disinfectants
Using disinfectants such as chlorine bleach can prevent sewage bacteria from spreading to your property. Stagnant water has different kinds of bacteria, toxins, and insects that could be harmful to you and your family. Damage restoration companies that specialize in sewage backup cleaning have special chemicals and disinfectants that can help you battle such situations.
Notify Your Insurance Company
If you have an insurance policy, now is the time to notify your insurance company. Take pictures of the sewage overflow or spill so that it can help your case if your insurance policy covers such damages. It is important for you to take pictures and videos because they will be used as proof for your insurance claims. You should be able to prove water damage to your home items and structural materials before initiating overall cleanup.
Don't Unclog Pipes Before Water Extraction
Refrain from unclogging the drains before extracting the standing water from the property. Unclogging the drains will only add to the mess if you do not get rid of the standing water and materials first. This can be a very challenging job, so it is best to follow the advised order.
Call A Professional
Sewage cleanup services can be helpful for such situations because of their expertise and experience in this particular area. Several damage restoration companies can carry out sewage backup cleaning services to restore your property back to its former glory.
It's necessary to call sewage cleanup experts as they have the proper tools and required experience to make sure all contaminated water is removed and affected surfaces are sanitized properly. They use industrial cleaners that get the job done better than regular cleaning products you find at the grocery show.
Who Can Help?
If you ever find yourself stuck in a similar situation, do not hesitate to contact 911 Restoration of Santa Barbara to solve your sewage overflow problems. Their well-trained professional staff can meet the needs of the clients with the utmost professionalism in their time of need.
With a response time of 45-minutes or less, 911 Restoration can reach your property in just a few minutes to help you out with sewage overflow and spills. Through the latest equipment, proper training, and several years of experience, their team of skilled technicians knows what they are doing.