How To Prevent Mold Growth in Closets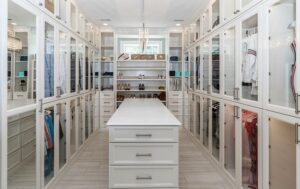 Mold is a real problem in homes. Mold not only causes destruction but poses health hazards to inhabitants as well. Most people believe that mold exists only where there is moisture, like in kitchens and bathrooms, but that's not entirely true.
Mold can wreak havoc not only on kitchen and bathroom floors and tiles but also inside your closet! Mold breeds where there is humidity, so mold quickly grows inside closets and ruins your beautiful clothes.
Given the damage mold can do in closets, you should work towards preventing its growth. Here are the top 7 tips to mold-proof your closet.
1.    Store Only Dry Clothes
Mold thrives on moisture. Therefore, make sure that your clothes are completely dry when you hang them inside the closet. Otherwise, moisture will linger along with humidity inside the closed closet, and mold spores will begin to form within just 48 to 72 hours.
Even if your clothes are damp, don't make the mistake of enclosing them in the closet. If dryers don't do an efficient job, you should always hang them in a well-ventilated area with the fan on. The same rule applies to sweaty clothes.  Dry sweaty clothes too before you hang them inside the closet.
2.    Use a Dehumidifier
Humidity is another factor that leads to mold growth. Since closets are enclosed spaces, you'd usually find high levels of humidity there, incurring the risk of mold spore growth. An effective way to prevent mold growth in closets is with the help of a dehumidifier inside the closet.
A dehumidifier helps to remove excess moisture and humidity from the air, especially where it's most abundant, like in closets. You can choose a dehumidifier depending on the size of your closet. You can use a mini rechargeable dehumidifier for smaller closets and an electric dehumidifier for larger closets.
3.    Promote Ventilate Inside the Closet
People usually have the habit of keeping their closet doors closed at all times, which traps humidity and moisture inside. This creates the perfect breeding ground for mold. To prevent this, you should promote ventilation and airflow by keeping the closet door open from time to time.
If you have sufficient space inside, you can alternatively keep a small fan inside the closet to ensure airflow for a few hours a day. This fan will also help get rid of any odors and moisture lingering inside your closet to hamper the growth of mold.
4.    Disinfect Closet Walls
The presence of mold inside your closet often goes undetected behind clothes. If there is mold inside your closet, you may not notice it till it gives off a musty odor. By then, sufficient damage may already have been done. To prevent this, you should regularly disinfect your closet walls.
Make a mixture of one parts bleach and three parts water and add this to a spray bottle. Now remove all the clothes before you begin the cleaning so as not to damage your clothes.  Spray the solution on the closet walls and surfaces and gently scrub with a dry cloth if needed. Make sure the closet is completely dry before you hang the clothes inside again.
5.    Use Wire Shelves
Most closets have wooden shelves and surfaces. While wood looks good, it can be prone to mold growth. Mold feeds on organic material and wood traps moisture, making it more susceptible to the formation of mold spores. To prevent mold growth inside your closet, you should choose wire shelves in place of wooden shelves.
The grid-like design of wire shelves also allow for better ventilation, which will keep humidity levels low. Wire structures will not trap moisture, and these steps will then prevent the growth of mold in enclosed spaces.
6.    Avoid Plastic Bags
Most people hang their clothes inside plastic bags when they receive them from the dry cleaner. However, this isn't a very good idea as plastic contributes to mold growth. Plastic has the propensity to trap moisture and invites mold growth. These mold spores will then quickly spread inside the entire closet.
To avoid mold growth, you should take out the clothes from plastic bags before you hang them inside. Alternatively, you should hang store clothes inside in a breathable material. Make sure you also leave space between clothes so as to promote airflow.
7.    Check for Leaks
Plumbing and roof leaks can occur in any part of the house. Since your closet is full of clothes, you may not even notice that there is a leak right inside your closet! This water damage will lead to the formation of clothes in as few as 2 days.
Therefore, you should regularly inspect the insides of your closets regularly to detect and cater to any leaks in a timely manner. Any damp patches will catalyze mold growth, ruining your closet and clothes inside.
911 Restoration of Santa Barbara County
Due to the high incidence of rainfall in Santa Barbara County, rainfall and following leaks are common. This water damage can easily lead to mold growth, especially inside enclosed spaces with high humidity like closets. This guide tells you how to prevent mold growth in closets.
But if you find mold in your closet, you should contact 911 Restoration of Santa Barbara County for mold inspection, removal and remediation.