Preparing for a Hurricane: Your Guide to Safety and 911 Restoration in Santa Barbara
As the residents of Santa Barbara, we are no strangers to the potential impact of natural disasters, including hurricanes. With Hurricane Hilary looming on the horizon, it's crucial to be well-prepared to ensure the safety of your loved ones and property. In this blog post, we'll address common concerns about the hurricane's impact on Santa Barbara County, provide essential steps to prepare for a hurricane, and shed light on the emergency alert system that plays a pivotal role in keeping us informed and safe.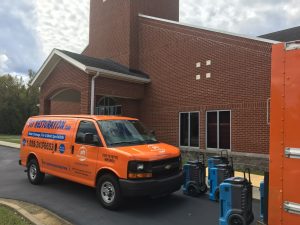 Will Santa Barbara be Affected by Hurricanes?
Santa Barbara, like any coastal area, is vulnerable to the effects of hurricanes and other severe weather events due to its location. It's essential to stay informed about weather updates and preparedness measures throughout the hurricane season.
Will Hurricanes Hit Santa Barbara County?
While we can't predict specific weather events with certainty, it's wise to stay vigilant and prepared for the possibility of hurricanes affecting Santa Barbara County. Keep an eye on trusted weather sources and local authorities for the latest information about any potential hurricane threats.
What Should You Do to Prepare for a Hurricane?
Create an Emergency Kit: Put together a well-stocked emergency kit that includes non-perishable food, water, medications, flashlights, batteries, a first aid kit, and important documents.

Develop an Evacuation Plan: Identify evacuation routes and shelters in your area. Plan how you will evacuate your home, where you will go, and how you'll stay connected with family members.

Secure Your Property: Trim trees and secure outdoor furniture to prevent them from becoming hazards during high winds. Install storm shutters or board up windows to protect against flying debris.

Stay Informed: Monitor local news, radio, and official social media accounts for updates on the hurricane's path and potential impact. Sign up for emergency alerts through the Santa Barbara County alert system.

Communication Plan: Establish a communication plan with family and friends to stay connected during the storm. Designate an out-of-town contact person who can relay information if local communication is disrupted.

Prepare Your Home: Reinforce your home's structural integrity where possible. Consider installing impact-resistant windows and reinforcing garage doors.

Protect Important Documents: Store important documents, such as insurance policies, identification, and medical records, in a waterproof container.
What is the Emergency Alert System in Santa Barbara County?
Santa Barbara County utilizes an Emergency Alert System to notify residents about imminent threats, local emergencies, and other critical information. This system sends alerts via phone calls, text messages, emails, and social media to provide timely and accurate information. To ensure you receive these alerts, sign up for emergency notifications on the Santa Barbara County Office of Emergency Management's official website.
While Hurricane Hilary may or may not directly impact Santa Barbara County, preparedness is key to ensuring the safety of your family and property. By creating an emergency kit, developing an evacuation plan, and staying informed through the county's emergency alert system, you can minimize risks and navigate through challenging times more effectively. Remember, being proactive today can make all the difference when facing the uncertainties of tomorrow's weather events. Stay safe, Santa Barbara!
If you are in need of assistance, call our IICRC certified specialist today.