Fireproofing Tips for Commercial Properties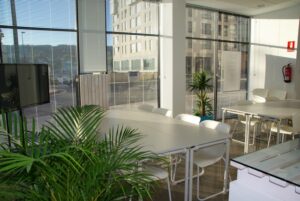 Commercial building fires cause owners more than $2.5 billion in damage and lead to thousands of injuries. Even the smallest of fires can get out of control and can result in extensive damage, making it essential to fireproof your commercial properties. This protects your building and its contents along with its tenants. To keep your commercial property safe this summer, take preventive measures to stop building fires. Not all fires can be prevented, but with precautions in place, damage to the property and injuries to personnel can be minimized.
Fire Detection Systems
All commercial properties should have a high-quality fire detection system so that fires can be detected and put out before they get out of control and cause more damage. One of the most important parts of this is smoke detectors which should be regularly checked to ensure that they're working. Since this is the first line of defense against a fire, it's important to both maintain it and conduct fire drills for employees.
Fire Doors
Fire-rated doors, commonly known as fire doors, are metal doors that can withstand extreme heat. These can be used in commercial buildings to protect those inside from fires, prevent the spread of the fire, and minimize property damage. One of the key features of these doors is them closing automatically when fires are detected. They can be installed as both exterior and interior doors and are used as part of a passive fire protection system.
Emergency Escapes
Commercial buildings and properties should be built to have escapes in case of fires or other emergencies. During a fire, exit routes like elevators may stop working and employees will need other routes to exit the building. Emergency escapes must be maintained and serve as fire exits. All employees should be trained to use these during emergencies.
Fire Extinguishers and Sprinkler Systems
Both fire extinguishers and sprinkler systems should be available in case smoke is detected. Sprinkler systems are especially useful since they can tackle fires without the training required in order to use a fire extinguisher correctly.  Commercial buildings should also have fire extinguishers that are available on every floor and should be easily accessible.
Exit Lighting and Signage
It's not enough to simply have emergency exits. These have to be known to those in the building, and there should always be lighting and signage indicating these exits. Emergency generators are one way to supply power for lighting and ensure that the exit signs are always visible and can guide people to safety even when there's a power outage.
Building Infrastructure
Commercial properties should be constructed with fireproof material like concrete, fireproof drywall, flame-retardant tiles, and other endothermic material to reduce the likelihood of a fire outbreak. If a fire does break out, these materials can protect the property and save on repair costs. Other considerations include fire barriers, fire partitions, and fire walls that can contain the spread of flames if there's a fire.
Maintenance
While maintenance usually refers to fire safety equipment, it should also cover other things such as replacing old power cords and ensuring that exits and doorways aren't blocked. Ventilation should also undergo maintenance, especially for rooms storing chemical and electrical equipment.
Fire Blankets
While sprinkler systems and fire extinguishers are more commonplace, fire blankets are not seen as frequently. They can be valuable when fires break out and should be readily available alongside extinguishers since they can save lives in emergencies.
Dedicated Smoking Zones
Smoking and smoking apparatus like cigarettes and cigars are risk factors for fires. To prevent fire outbreaks, all commercial properties should ensure a smoke-free environment and designate specific areas as smoking zones. Not disposing of materials like cigarettes is extremely dangerous and smoking zones should be monitored to ensure this isn't the case. However, allotting dedicated smoking zones is a good idea since it reduces the risk of fire outbreaks in non-smoking areas.
Decluttering and Disposing of Combustible Materials
Flammable and combustible items are fire hazards and should be kept away from commercial properties. Instead of holding on to paper and cloth waste, schedule regular decluttering and cleanup services for these items.
Call 911 Restoration of Santa Barbara for Fire Damage Restoration
While fires can usually be prevented, sometimes they're inevitable. If your business or commercial property has suffered fire damage, it's essential to call fire damage restoration services as soon as possible. If you're a property owner, 911 Restoration can offer you a free assessment to see the extent of the damage and come up with a personalized fire cleanup plan. Our IICRC-certified technicians are also experts in water damage restoration and can take assist with any water damage that is caused while putting out fires.
Emergencies can happen at any time. That's why 911 Restoration of Santa Barbara is open 24/7 and can meet your restoration needs whenever you call. You can either call us at 805-254-8356 or get in touch with us via this contact form. Either way, we'll be sure to get to your property within 45 minutes of your call so we can tackle any fire and water damage swiftly.